Because I was getting seriously disgusted with the amount of junk I had been ingesting and in preparation for a race that I will be training for soon, I decided to give up seven major foods for three weeks. All of the banned foods are often implicated in food allergies. Even for those who are not allergic, these foods can cause the body to work less efficiently than it should. The foods that I am currently abstaining from are:
Dairy

Soy
Peanuts
Gluten
Eggs
Sugar
Corn
I'm not trying to be a zealot about this and I definitely don't believe in suffering when it comes to food. I'm sure I'll be enjoying a fat bowl of ice cream with all the fixin's soon enough. However, I DO believe in occasionally giving my body a break. Every once in a while, it's nice to be really thoughtful about what I'm putting into my mouth.
And so–just like when Oscar got his celiac diagnosis–I'm finding myself experimenting a bunch in the kitchen these days. I wouldn't really call myself a chef…I'm more like a mad scientist…heating and cooling…mixing and mashing…blending and boiling in search of concoctions that I hope will be as satisfying and delicious as they sound inside my head. Our kitchen is getting pretty worked over these days.
I'm happy to report that despite all of my serious self-imposed limitations, I am actually eating quite well and feeling pretty great 6 days into this little experiment. When I need something sweet, I find that a dash of organic maple syrup or a little honey goes a long way. For my cheese hankerings, I have rediscovered my love of goat and sheep's milk cheeses. Coconut and almond milk (often a mix of the two!) satisfy my dairy hankerings. Below are a few of the recipes that are getting me through. These are so good, they might actually become part of my regular repertoire–even after my 21 day adventure has concluded. Bon appétit!
Simple Smoothie
Ingredients
1 ripe banana
1 1/2 to 2 cups of frozen berries (I use the organic antioxidant frozen berry mix from Costco.)
about 1/4 cup coconut milk (Adjust depending on desired thickness. I like mine thick like sorbet!)
2-3 Tbsp. honey (depending on desired sweetness)
Instructions
Combine all ingredients in a blender and blend until smooth.

Add coconut milk and honey to adjust sweetness/thickness as desired.
Sugar Free Chocolate Almond Bark

Ingredients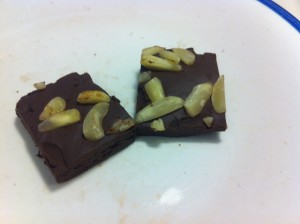 6 oz. unsweetened chocolate, coursely chopped

2-3 Tbsp. organic, pure maple syrup (adjust depending on desired sweetness)
slivered almond (or any other kind of nut/dried fruit you like with your chocolate)
Instructions
Melt chocolate in a double boiler (i.e., a stainless steel boil that has been placed over a pot of boiling water.)

Heat maple syrup in the microwave until just boiling. Mix into melted chocolate until smooth.
Immediately press chocolate/maple syrup mixture onto parchment paper and press almonds (or other additions) to the top of the chocolate.
Allow the chocolate to cool completely and cut/break the chocoalte into pieces as desired.
Mustard and Almond Encrusted Hallibut
Ingredients
1 lb. halibut
1/4 cup dijon mustard (I checked the label to make sure mine didn't have any of the banned substances!)
3 Tbsp. almond milk
1/4 cup slivered almonds (Pecans would work too.)
Instructions
Preheat your oven to 375° F.

Mix together mustard and almond milk to make a paste.

Dip hallibut into the paste and coat on both sides.
Sprinkle almonds over both sides of the fish and place in a glass baking dish.
Bake until fish is flaky but still moist (10-20 minutes depending on the size/thickness of your fillet).