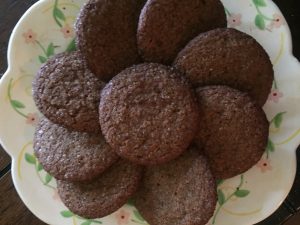 While experimenting to make a satisfying treat for Oscar and I during the few weeks we are avoiding white sugar, I stumbled across this concoction that is actually quite tasty!
Ingredients:
2 1/4 cups Bob's Red Mill Gluten Free Flour
2 tsp baking soda
1/4 tsp salt
1 tsp cinnamon
1 tsp ginger
1/2 tsp cloves
3/4 cup unsalted butter (at room temp)
1 cup packed coconut sugar
1 egg
1 cup molasses
Raw sugar for rolling
Instructions:
Preheat oven to 350 degrees. Sift together flour, baking soda, salt, and spices. Beat together butter and coconut sugar until smooth (about 1 minute). Add the egg and molasses. Beat for an additional minute. Combine flour and wet mixtures. Spread a thin layer of raw sugar on a cutting board. Spoon balls of dough onto the raw sugar and roll to lightly coat. Place about an inch apart on a baking sheet and bake for about 10 minutes until tops are matte with a few sugary crystals forming on top. Remove and separate immediately from the cookie sheet with a spatula to prevent sticking (or use parchment paper).