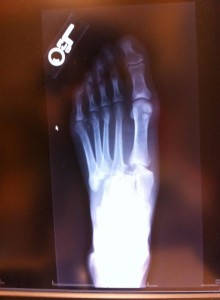 So…anyone who has been following me on Facebook knows by now that on June 4th, I had a gnarly bike accident that resulted in me basically breaking my foot in half and dislocating every single one of (and breaking some of) my toes. Surgery to repair the damage is tomorrow. Mandatory bed rest will last most (if not all) of the summer. The this unfortunate turn of events has reinforced many truths. These include:
Wearing a wedge heel while biking is perhaps not the best choice (even if I think I look fabulous doing it).

Life is an unexpected and crazy thing that is totally beyond my control (even though I like to pretend otherwise in my most Type A moments).

Good health care is essential (even for those of us who think ourselves relatively spry and healthy).

Trying times are generally rife with silver linings and hidden blessings.
Immediately following the accident, Good Samaritans started pouring in. My neighbor (who was biking with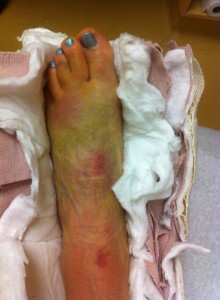 me) and some kind stranger doing Tai Chi in Central Park rushed to get me out of the street and make me as comfortable as possible on a park bench until Chris could arrive to take me to the ER. Another kind stranger appeared from nowhere with a bag of ice. Before I had even officially put out the word on what had happened, we were receiving calls and messages from people who heard something bad had happened who wanted to know how they could help.
I have been nothing less that astounded by the speed with which our "village" has descended to surround us during our time of need. One fellow Type A organizer with a giant, beautiful, shiny heart even spent a morning sitting next to me on my sick bed setting up a website where folks could sign up to bring food, take the boys to their summer activities, do our shopping. My mom and sister swooped in to help me handle parties and other pending commitments. We've had deliveries of several delicious dinners, neighbors taking the boys to swim lessons, offers to help put the boys to bed while Chris is at work, great medical advice from doctor friends, and loans of awesome medical equipment. We even received a lovely card with a gift certificate for house cleaning inside! The list of all that we have to be grateful for goes on and on. My heart could seriously burst!
Less obvious but deeply profound are the benefits of being able to linger with my boys on these summer days.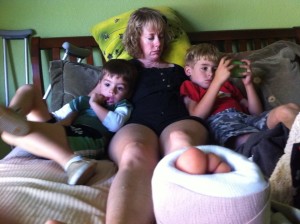 While it's certainly not how I would have wanted it to happen, it has been such an exquisite gift to be able to have so many long cuddles, eat meals slowly all together while having rich conversation. Sure, I wish I could take them to the pool and ride bikes and train for that half marathon I signed up to do Labor Day weekend. Since I can't, I am relishing this probably once-in-a-lifetime elimination of excuses to just be still…to savor my lovelies in a way that the on-the-go me so seldom does. The boys are learning to be more independent, helpful, empathetic. These are skills that I hope they continue to hone forever. Even after the cast comes off for good, maybe we'll all be a little better at being still and savoring one another. So Summer Plan A is a bust but Summer Plan B is turning out to be pretty OK too. Thank you, universe for this chance to be still and feel so much love.